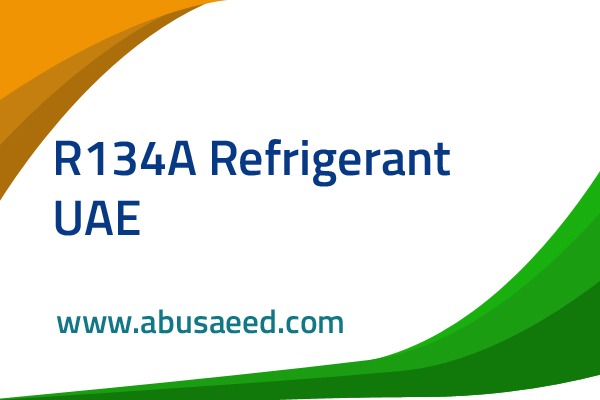 134a Refrigerant UAE (HFC-134a) has been developed by Honeywell to serve as one of the key substitutes for CFCs and HCFs in the region. Honeywell's Genetron 134a is a long term, environmentally safer, non-ozone depleting substitute. Abusaeed Trading Company is the authorised Honeywell dealers in UAE provide the best of products and services based on deep rooted commitment and value towards our customer's business and goodwill.
As a refrigerant, R134A possesses similar energy efficiency and capacity characteristics as R-12 and has an intrinsically low toxicity. 134a refrigerant is the refrigerant of choice in in automobile air-conditioning. It may use in residential and commercial refrigeration, as well as commercial, and industrial air-conditioning.
Features
Genetron 134a (HFC-134a) uses in refrigeration applications, automotive air-conditioning. as a propellant for medical aerosol products, and as a blowing agent for foam insulation.
HFC-134a is a High Production Volume (HPV) chemical produce at over 1,000,000 pounds annually.
HFC-134a uses in closed systems, thus significant exposure to workers is unlikely. For use in worksite safety programs established workplace exposure limits. Moreover, patients using metered dose inhalers for respiratory diseases that use HFC-134a as a propellant will be exposed. The Food and Drug Administration (FDA) has approved the use of HFC-134a in these applications.
HFC-134a is a colorless, non-flammable volatile liquid hydrofluorocarbon.
R134A Refrigerant is more Environmentally Friendly
It is non-ozone depleting, but is a global warming substance.
HFC-134a is practically non-toxic. Short-term exposure to very high levels of HFC-134a can induce cardiac sensitization and therefore it should use in accordance with recommended practices.
Animals exhibited no serious effects upon repeated exposure to HFC-134a, nor adverse effects on reproduction.
Male rats developed an increase in the frequency of benign testicular interstitial cell tumors, a tumor common in older rats and rare in humans, when repeatedly exposed over their lifetime to high concentrations of HFC-134a. These types of tumors in rats rarely become malignant. The risk of human males developing the same tumors if they routinely come into contact with HFC-134a is low. The overall cancer risk for HFC-134a is low.
Although practically non-biodegradable, HFC-134a is unlikely to impact the aquatic environment because of its high volatility and low toxicity to aquatic organisms. It will migrate almost exclusively to the atmosphere where it expects to have a lifetime of 13.6 to 14 years.
HFC-134a is not likely to accumulate in the bodies of humans or animals.
For more information please click www.abusaeed.com
Related Link
R22 Refrigerant UAE