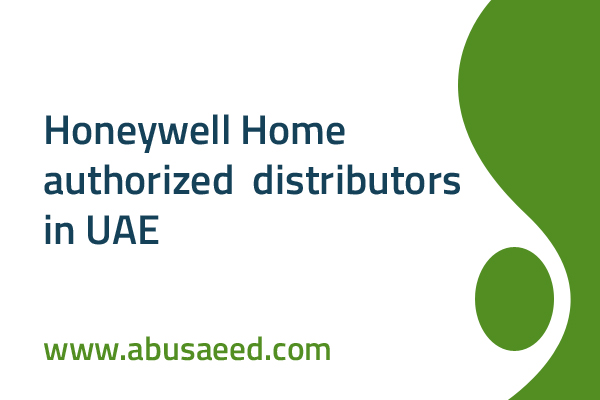 Honeywell Home authorized distributors in UAE strive to provide high-quality service with trained exclusive team. Abusaeed Trading Company supply top brands with best wholesale and retail prices. We supply Honeywell Valves, Thermostats, Refrigerants, Actuators etc at competitive prices.
Installing a smart thermostat can help you stay cool, without the expensive energy bill. Smart Thermostats UAE – is inevitable in a region like UAE where it is very hot in summer heat, smart thermostats provide you relief from many expensive utility bills.
Benefits of Smart Thermostats
When it comes to the use of smart thermostats you're getting more comforts. Here are the key benefits of smart thermostats
Smart Thermostats saves energy
Firstly, when you install smart thermostats, the "programmable" ones, help you save money on energy. As the energy costs is increasing, smart thermostats are the most recommendable one.
Remote Access
Secondly, you can quickly change the temperature even you are at home or not. So that you can save energy loss until you get home.
Easier to install and use
Smart thermostats are easy to use if you have a proper wiring system. Its modern screen designs and highly-rated companion apps makes it easy to use. If you've had a hard time with programmable thermostats in the past, you'll love this new generation of well designed and user friendly thermostats.
Alerts
Most of the smart thermostats can utilize a vacation mode function to use minimal energy while you are away. These devices can issue alerts to warn you remotely when adjustments are necessary. If your thermostat is disconnected from its network, perhaps due to a power outage, you can be notified of that, too.
Tracking Energy Use
A smart thermostat also provides energy reports about how much power you are using. Also, it shows how your energy use has changed over time, and how much is the cost. As a result, these reports help you to adjust temperatures to save money as well.
With such excellent quality products, we are also providing support services for branded products. Therefore, visit us now and get the highest quality products at the best price to meet the benefit of Air Conditioning and Refrigeration along with all supporting Electrical parts and Equipments needs.
For more information please click www.abusaeed.com
Contact
+971 (0)4 2209 646
+971 (0)4 2209 647
connect@abusaeedtrading.com
Related Links
Honeywell UAE
Valves UAE