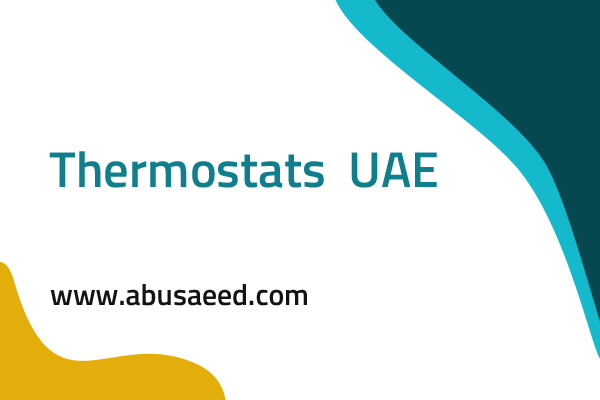 Thermostats UAE
UAE has been the business hub for longer. Regardless of the fact that you are a UAE national or an ex-pat here, the business ground is equally rich. For over 29 years, Abu Saeed Trading Company LLC has been dedicated to make the world better through diverse business and advanced technology in the fields of Air Conditioning and Refrigeration along with all supporting Electrical parts and Equipments. Thermostats UAE one of the best product of Honeywell we deal with. Honeywell UAE is a global Fortune 100 company with technologies that help everything from aircraft, buildings, manufacturing plants, supply chains, and workers become more connected to make our world smarter, safer, and more sustainable.
As one most reputed Honeywell UAE Distributor, we offer a wide range of components, equipments, spares and tools for the industry.
What is a thermostat?
A temperature control on a wall in your home to control the heating system but, although it's probably marked in degrees, it's called a thermostat, a modern word based on two ancient Greek ones: thermo (meaning heat) and statos (which means standing and is related to words like stasis, status quo, and static—meaning to stay the same). We can tell just from its name that a thermostat is something that "keeps heat the same": when our home is too cold, the thermostat switches on the heating so things quickly warm up; once the temperature reaches the level we've set, the thermostat switches the heating off so we don't boil.
Honeywell offers the following types of control valves:
Choosing and Programming a Programmable Thermostat
Most programmable thermostats are either digital, electromechanical, or some mixture of the two. Digital thermostats offer the most features in terms of multiple setback settings, overrides, and adjustments for daylight savings time, but may be difficult for some people to program. Electromechanical systems often involve pegs or sliding bars and are relatively simple to program. While programming, consider the schedules of everyone in the household. If there is a time during the day when the house is unoccupied for four hours or more, it makes sense to adjust the temperature during those periods.
Basic Types of Thermostats
The four basic types of modern thermostats are Non-programmable, programmable, Wi-Fi and smart. The further you get down the list of the thermostats discussed below, the more expensive they become. However, energy efficiency increases with each thermostat. If you're looking for a thermostat that provides maximum energy efficiency and the best indoor comfort, skip down to the smart thermostat section.
Non-Programmable Thermostat
A non-programmable thermostat is ideal for those who are rarely away from home. It's simple to manually adjust the temperature to your preference. A non-programmable thermostat is very basic. Any time you want to change the temperature in your home, you'll need to adjust the setting on the thermostat. You cannot pre-program the thermostat to change your home's temperature while you're away or sleeping. However, a quality non-programmable thermostat can achieve high energy efficiency by communicating with the heating system to maintain your temperature preference.
Wi-Fi Thermostat
Wi-Fi thermostats connect to a wireless network. You can access the network via your smartphone, computer or tablet. This allows you to remotely adjust the thermostat's temperature. A Wi-Fi thermostat is also a programmable thermostat. It provides the ultimate convenience in that you can override a preprogrammed temperature setting if you get off work early. This type of thermostat is particularly ideal for those who want full control over a home's temperature setting even when they're away from the house.
Smart Thermostat
A smart thermostat easily integrates with various home automation tools and equipment. Over time, the thermostat learns your living habits and adjusts the temperature accordingly. It'll learn when you arrive home each day. As it notices patterns, it stores the information to achieve maximum heating and cooling efficiency. Many smart thermostats come with voice control features and are compatible with Google Assistant or Amazon Alexa. Smart thermostats are ideal for tech-savvy households that prefer optimal indoor comfort. Like a Wi-Fi thermostat, you can access a smart thermostat from any device with an internet connection that's compatible with the thermostat's mobile app. A smart thermostat does come with a higher price tag than other types of thermostats. However, the money you save on heating and cooling expenses will easily cover your investment within one to two years. A smart thermostat can even alert you once it's time to schedule HVAC maintenance.
Mechanical Thermostat
Mechanical thermostats regulate heat thanks to the expansion of their internal metallic strips. This strip carries electricity through the connected circuit, switching on the heating. As the strip heats up, one of the metals expands enough to open the circuit and switch off the heating, cooling the room down. To regulate this mechanism on your thermostat, use the temperature dial that you can adjust to the preferred temperature. This sets the point for the circuit to switch off and on.
Metal strips take some time to expand or contract, so the process can be rather gradual. One solution to this is to look for a mechanical thermostat with a gas-filled bellows sandwiched in between two metal discs. These metal discs are designed to have a fairly large surface area, allowing them to react quickly to heat. The gas in the bellows is what expands and contracts, controlling the electric circuit and heating accordingly. While this may sound complicated, from the user's perspective all you need to do with the thermostat is set the desired temperature, and the mechanical components will do the rest.