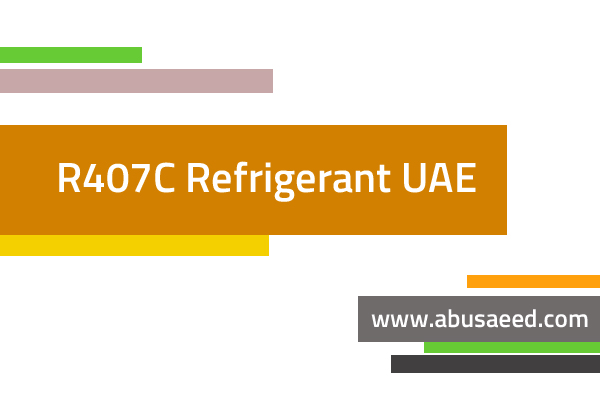 R407C Refrigerant UAE
The R407C Refrigerant UAE has designed closely to R22 pressure. Its performance allows for a smooth transition from R22 to R407C. Honeywell strives to be that full-service supplier by providing products and support programs. That will meet the changing needs of air conditioning and refrigeration professionals. Abu Saeed Trading Company LLC, Honeywell UAE Distributor strive to source and provide high quality products and renowned brands with dedicated customer service and uncompromising standards The broad product line we offer features Genetron brand solutions for virtually every application in air conditioning and refrigeration.
The rise in the economic value of the UAE's national brand is a clear indication of the country's global reputation. The improvement in the economic value is also a sign of tremendous competitiveness in various fields. Honeywell is a multinational conglomerate having strong presence in Dubai. Abu Saeed Trading Company LLC, the distributor of Honeywell, UAE strives to source and provide high quality products and renowned brands.
We deal with lot of Honeywell Home UAE products to meet the demands of new projects and main tenance services. We offer very competitive prices and ensure prompt delivery of our products. Honeywell Refrigerants Gas is the established technical leader in the development of fluorine-based (HFC) refrigerants for the commercial and industrial refrigeration industry worldwide. We have been at the forefront of the industry's drive to develop these safer, non-ozone depleting alternatives to the older technology, environmentally unfriendly CFC and HCFC refrigerants, in compliance with global legislation for their phase-out.
Honeywell is a multinational conglomerate corporation which primarily operates in four areas of business: aerospace, building technologies, performance materials and technologies, and safety and productivity solutions.
We supply products such as components, equipments, spares and tools for the industry. It includes R22 Refrigerant, R134A Refrigerant, R404A Refrigerant, R407C Refrigerant, R410A Refrigerant, AC Thermostats, Smart Thermostats, Wi-Fi Thermostats etc. Abu Saeed Trading Company LLC is one of the most reputed Honeywell Refrigerant distributors in UAE.
One of the best brand products we distribute in UAE is Honeywell Refrigerant which finds a good market.
What is Refrigerant?
A refrigerant is a substance used in a heat cycle to transfer heat from one area, and remove it to another. Usually a gas at room temperature. Found in pretty much everything that cools, and sometimes in things that heat, most commonly air conditioners, fridges, freezers, and vehicle air conditioners.
R407C Refrigerant
R407C refrigerant gas is used in new refrigeration and air conditioning equipment with medium or low refrigeration temperatures. It is the substitute for R22. Does not damage the ozone layer. The charges must be made in liquid phase and POE oils must be used
In case of replacement the R22 must always be switched to POE (polyolester) oil. In all retrofitting contexts, the correct refrigerant have to select carefully. The situation and conditions as a whole should consider.. Due to its relatively high GWP value, R407C will replace with refrigerants with a lower GWP value.
R-407C is a non-azeotropic mix of refrigerant compose with three ingredients R-32, R-125, and R-134a. It is developed as a substitute refrigerant for R-22. R-407C use in applications such as air conditioning equipment and chiller equipment for medium temperature ranges.
Abu Saeed Trading Company provide you the most cost-effective and energy-efficient solutions at affordable cost. We engage in direct online sales, it is in the best interest of the manufacturer Honeywell, UAE. It provides another channel of opportunity for us to resell the brand to the retailers. We deliver products without losing all the benefits of the established brand Honeywell.
Honeywell Refrigerants Gas
Honeywell Refrigerants Gas is a global leader in the development and production of high-performance fluorocarbon refrigerants and thermal working fluids. Our customers include original equipment manufacturers, service technicians and facility managers, and consumers around the world.
The elimination of ozone-depleting refrigerants and chemicals continues to be a key environmental focus for Honeywell as countries phase out these chemicals in accordance with the international agreement "Montreal Protocol on Substances that Deplete the Ozone Layer."
We have invested in both R&D and manufacturing capacity to help countries and companies meet our commitments to this global effort by moving to non-ozone depleting alternatives. At Honeywell, we see Responsible Care as the foundation of environmental, health and safety excellence in our business. We incorporate HSE management systems into all phases of the chemical life cycle.
R407C Refrigerant
R 407C refrigerant serves as a nonozone-depleting replacement for HCFC-22 in various air-conditioning applications, as well as in most refrigeration systems. Since R 407C refrigerant is a close match to HCFC-22, it also serves as a retrofit fluid in applications where HCFC-22 generally uses.
Applications
Unitary Air Conditioning R 407C refrigerant can serve as a non-ozone-depleting replacement for HCFC-22 in residential and light commercial air-conditioning systems. It has a capacity comparable to HCFC-22 making it easier to use in existing equipment designs. Some equipment modifications will require when retrofitting these systems to R 407C refrigerant. Chillers R 407C refrigerant can serve as a replacement for HCFC-22 in positive displacement chillers without flooded heat-exchangers. R 407C refrigerant is a blend with a temperature glide. So it is not recommend for use in chillers with a flooded evaporator. Commercial Refrigeration R 407C refrigerant may use to replace HCFC-22 in existing medium-temperature commercial refrigeration systems. It includes supermarket display cases and reach-in coolers.
Advantages of R407C Refrigerant
Exhibits thermo-physical properties that are similar to the R22. hus, when changing from the R22 to the R407C, minimal alterations in the refrigeration system are required. An R22 system and an R407C system use many of the same components
Chlorinated Materials and Refrigerants
The use of chlorinated solvents to clean refrigeration systems or components does not recommend. The following are three situations in which R 407C refrigerant and its associated lubricant might come into contact with chlorinated materials and refrigerants:
– Firstly, a chlorinated solvent use to clean or flush the system
– Secondly, an HCFC-22 system is retrofitted with R 407C refrigerant
– Thirdly, HCFC-22 or another chlorinated refrigerant is accidentally charged into a system that contains R 407C refrigerant R407C is a widely use non-ozone depleting blend HFC refrigerants, the designed is near to R-22. But performance is much better than other refrigerants available at present market. Due to its lower price and greater performance people are accepting it. It specially design to give the benefits in exhibits higher pressures as well as refrigeration capacity than R-22.
Abu Saeed Trading Company LLC see Responsible Care as the foundation of environmental, health and safety excellence in our business. Our commitment to continuous health, safety and environmental performance improvement is evident at our facilities around the world.