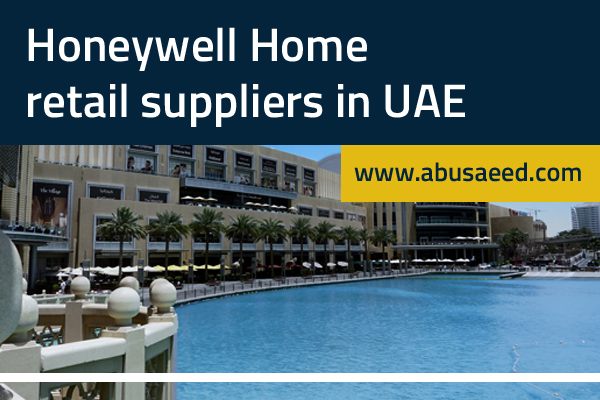 Honeywell Home Retail Suppliers in UAE
Honeywell Home retail suppliers in UAE is a leader in distribution of top brands. Abusaeed Trading Company is an authorized Honeywell Distributor UAE strives for diverse business and advanced technology in the fields of Air Conditioning and Refrigeration along with all supporting Electrical parts and Equipments.
Honeywell UAE is a Fortune 100 software-industrial company that delivers industry specific solutions that include aerospace and automotive products and services; control technologies for buildings, homes, and industry; and performance materials globally. Our technologies help everything from aircraft, cars, homes and buildings, manufacturing plants, supply chains. Above all workers become more connected to make our world smarter, safer, and more sustainable. At Abusaeed Trading Company, we supply valves, refrigerant, actuators, thermostats etc.
Honeywell Thermostats
Honeywell Programmable Thermostats include a series of quality of life enhancement features. To clarify, some of these devices use WIFI, color touch screen, apps designed for Apple/Android OS. Furthermore it can be remotely controlled whether you are at home or thousands of miles away.
However, some of the most recognizable thermostats in the world are Honeywell Non-Programmable Thermostats. Here is one of the latest smart thermostats that you can consider as your replacement for your current thermostat
Thermostat FocusPRO 24v Dx 2 Stage Horizontal Large Display
The FocusPRO non-programmable digital thermostat provides electronic control of 24 Vac conventional and heat pump systems or 750 mV heating systems.
Features
Firstly, Non-programmable digital thermostat
Secondly, Large, clear, backlit display – easy to read in various lighting conditions
Thirdly, Display size options – available in large screen or standard
Fourthly, Precise comfort control (+/- 1º F) – maintains consistent comfort to the highest level of accuracy
Fifthly, Easy change battery door – flip out door allows for easy battery replacement without removing or disassembling the thermostat
Sixthly, Up to 3 Heat/2 Cool Heat Pump or Up to 2 Heat/2 Cool Conventional
Seventhly, Dual-powered (battery and/or hardwire)
Abusaeed Trading Company is the most efficient distributor in UAE. Moreover, our wider customer reach is proof of our faster growth in the industry. We distribute of a wide range of components, equipments, spares and tools for the industry at reduced costs. We strive to source and provide high quality products and renowned brands with dedicated customer service and ensure prompt delivery of our products.s.